For the 6th edition of VHDG/SRV, Kunstinitiatief VHDG inivited Polish artist Horacy Muszynski. For six weeks, from August 30 until October 11, this young talented artist will explore the Wadden area in the SRV-car (the old mobile supermarket turned into a driving artist-residence). Horacy will travel around, live and work in this mobile atelier on wheels, which will also serve as a movie studio for his project: an experimental horror movie about Friesland.
The curators of VHDG discovered Horacy's work Kishonia during the exhibition Survival 17 in Wroclaw in 2019 and became immediate fans. They got to know Horacy as an ambitious young creator that gives 200% to realize his unconventional projects. His ingenuity and ability to improvise establish him as a perfect SRV-artist.
Behind the wheel of the SRV-car Horacy shall cross the Wadden area looking for local horror stories and paranormal events witnessed on the Wad. His quest for stories and unique film locations starts in Moddergat, from where he will follow the coastline southbound.
After his residence of six weeks the result will be a horrible and funny movie about creepy actualities, which will be shown in H47.
His own film language between reality and fiction Horacy Muszynski (1994) mixes film, performance and video-art in his work. With unique and experimental projects he searches for the boundaries between reality and fiction, between high and low culture. Horacy has developed a radical own film language. His films are a blend of styles and genres, from horror to documentary.
With minimal resources Horacy makes special effects and very inventive visual stories, incorporating elements of parody, B-movies and amateur films. Beneath the humor and absurdist approach is a hidden layer of criticism on contemporary social issues.
Game and experiment The artist likes to play with the medium of film and the borders between fiction and reality. For example, he told the actors for his work Dolly, who were playing the roles of a family, to stay in their roles during the whole period of filming, also when they were not on set.
In the work ID he explored the theme identity, by hiring an actor that replaced him for a week in his daily life. The miniseries Ass death dicks (pronounced: aesthetics) reflects on the murderous competition between young creators, a subject seldom discussed in the art scene.
B-movie as a tool The B-movie, as a genre, is an undervalued tool to express concern for modern issues. The simple form and story could reach a broad audience, without overwhelming the viewer with attempts to answer fundamental life questions.
Mockumentary The movie Horacy is creating in Friesland will be a mockumentary: a genre in which a fictional story will be presented in documentary style. A mockumentary is satirical in origin; a subject will be criticized in a funny manner, with the documentary as stylistic device.
A convincing mockumentary demands a critical perception of the viewer to distinguish what is 'real' and what not, what the deeper layers are and what the intention of the creator is. The realism of this narrative form can make a thrilling movie even more thrilling. The most well known example of this is the movie Blair Witch Project from 1999.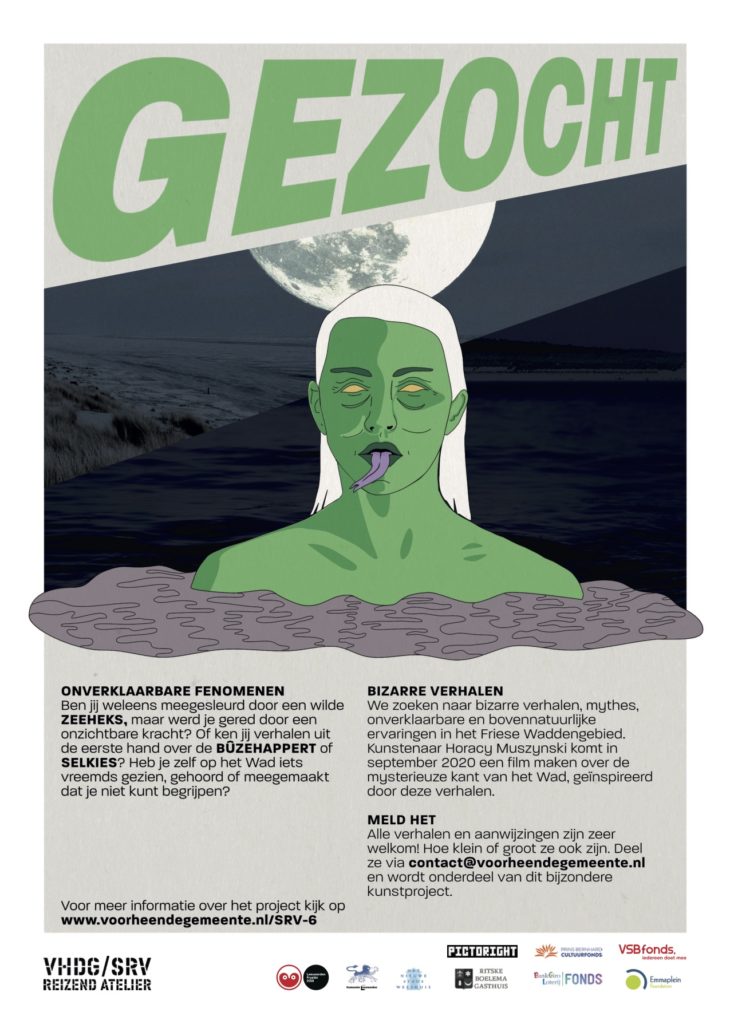 Your Frisian horrorstory
Unique is the fact that the artist is screenwriter, director, actor, Do-It-Yourself effect-creator, and producer, all in one. But Horacy doesn't make his films alone; and no SRV-project would be possible without the collaboration of local people and businesses.
Horacy's movie crew consists of enthusiastic students form NHL Stenden in Leeuwarden and the inhabitants of Friesland whom he meets on the road. For Horacy, the attraction of the medium of film is because of the element of teamwork.
Do you know a particularly creepy story about the Wadden? Or would you like to help the filmmaker with his movie? Do you know of any fantastic film locations? Let us know! contact@voorheendegemeente.nl
Biography Horacy Muszynski Horacy studied Multimedia (BA) and Experimental Film (MA) at the art academy in Szczecin, Poland. Right now he lives in Warsaw and studies Social Arts besides his artistic practice at the University of Warsaw. From October 2020 Horacy will be studying at The Ateliers in Amsterdam. Also take a look at Horacy's YouTube channel.
Follow Horacy Updates on the project and Horacy's adventures will appear on our socials, or you can join the special WhatsApp-group: 06 49 283 387
Education and workshops Parallel to Horacy's journey VHDG's educational team, led by Siska Alkema, offers creative workshops for elementary schools throughout Friesland. Students will make movies as well, as a reaction to the work of the artist. These works will be exhibited as well at Kunstruimte H47.
---
Partners: New noardic Wave, NHL Stenden, Kunstruimte H47, Film Festival Cinematig, Neushoorn
Mogelijk gemaakt door: LF2028, Stichting DOEN / BankGiro Loterij Fonds, VSBfonds, Gemeente Leeuwarden, Prins Bernhard Cultuurfonds, Emmaplein Foundation, Stichting Het nieuwe Stads weeshuis, Stichting Ritske Boelema Gasthuis, Fonds Pictoright